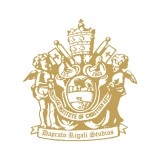 Chicago is home to one of the most beautiful churches in the entire country – St. John Cantius.  It is known for its expansive bays, decorative paint scheme and a long list of additional Catholic Art treasures.  Information about Daprato Rigali's restoration of St. John Cantius can be found here.
Recently, Kathleen Carr, a classically-trained artist, painter, illustrator and designer, has begun an organization known as The Catholic Art Guild – out of the community at St. John Cantius.
---
From the Catholic Art Guild Website –
   ARTISTS FOR BEAUTY, EVANGELIZATION & THE GREATER GLORY OF GOD
   The Catholic Art Guild is a lay apostolate formed in support of Catholic art and artists, particularly as art relates to enhancing the beauty of the liturgy and its power to evangelize souls. Our mission will be realized through community building, educational programs, networking events but most importantly through the Holy Mass. Our mission and members will be supported spiritually through monthly masses offered by the Canons Regular of St. John Cantius Church. Read More
---
Daprato Rigali will be partnering with Kathleen and the Catholic Art Guild to help build awareness and appreciation of Catholic Art in America.  There will be studio tours, lectures, workshops and other events to look forward to that will help build and brighten the understanding of classical Catholic Art in America.
We plan to announce specific dates and events to in the near future!!
Kathleen's website can be found at – http://www.carrfineart.com/about
And the Catholic Art Guild website can be found at – catholicartguild.org
Stay tuned!